The Conference
7 & 8 February 2018
Faculty of Engineering, Universiti Putra Malaysia, Serdang, Malaysia
The 2018 annual conference of Malaysia Society of Agricultural Engineers will takeplace on 7 & 8 February 2018 at the Faculty of Engineering,Universiti Putra Malaysia in Serdang. The conference theme is "Our food, our future". The conference will bring together academics, regulators, industrial leaders in agricultural engineering sector in Malaysia to meet its objectives to discuss latest technology, agricultural industry demands, sharing of best practices and updates on the nation agricultural regulations.
Call for papers
Papers are invited on the following topics:
Agricultural Mechanization and Automation

Agricultural and Food Processing Engineering

Agricultural Infrastructures

Agriculture Resources and Waste Management
Abstract should be emailed to conferenceMSAE@gmail.com in A4 Word format.The abstract and full paper format be downloaded here.


Registration
Paper presenter/participant:
| | |
| --- | --- |
| Delegate | Fees |
| Local | |
| MSAE members | RM250 |
| Non-MSAE members | RM300 |
| International | USD100 |
Commercial/Association promotion poster:
| | |
| --- | --- |
| Poster presenter | Fees |
| MSAE members | RM350 |
| Non-MSAE members | RM400 |

To register for the conference please click here


Benefits of joining the conference


| | | |
| --- | --- | --- |
| Benefits | as Presenter | as Participant |
| Policy maker | Feedback on new policy | Voicing out issues and problems |
| Head of departments | Sharing of experience, networking | Networking, sharing opinion |
| Manager | Sharing of experience and best practices | Gain new knowledge and opportunities |
| Engineer | Promotion of technological expertise | Exposure to new innovation and technology |
| Scientist | Promotion and sharing of new scientific findings | Exposure to real problem in the field |
| Academics | Sharing of new theory, theory to practise | Appreciation of new knowledge for the advancement in the industry |
| Entrepreneur | Opportunity to expand market | Networking, opportunity for new market |
| Commercial farmer | Promotion of services and industrial equipment | Networking, update on new technology and best practise |


Tentative Program

Wednesday, 7thFebruary 2018 (1st Day of Conference)
| | |
| --- | --- |
| 07.30 am – 08.29 am | Registration at Front Desk |
| 08.30 am – 08.39 am | OPENING REMARKS |
| 08.40 am – 09.09 am | 1st Keynote Presentation |
| 09.10 am – 09.39 am | 2nd Keynote Presentation |
| 09.40 am – 09.59 am | Photo session with all participants |
| 10.00 am - 10.29 am | MORNING TEA BREAK |
| 10.30 am – 10.59 am | 3rd Keynote Presentation |
| 11.00 am – 11.29 am | 4th Keynote Presentation |
| 11.30 am – 12.29 pm | 1st Technical Session |
| 12.30 pm – 12.59 pm | Award Recognition to Senior MSAE members |
| 01.00 pm – 02.29 pm | LUNCH BREAK |
| 02.30 pm – 04.59 pm | MSAE GENERAL MEETING |
| 05.00 pm – 05.30 pm | EVENING TEA |
| | |
| --- | --- |
| 06.30 pm – 06.44 pm | Photo session with all ACABE delegates |
| 06.45 pm – 08.00 pm | DINNER |
| 08.00 pm – 09.59 pm | ACABE MEETING |
| 10.00 pm – 10.30 pm | LIGHT SUPPER |
Thursday, 8thFebruary 2018 (2nd Day of Conference)
| | |
| --- | --- |
| 07.30 am – 08.29 am | Late Registration at Front Desk |
| 08.30 am – 09.59 am | 2nd Technical Session |
| 10.00 am -10.29 am | MORNING TEA BREAK |
| 10.30 am – 11.44 pm | 3rd Technical Session |
| 11.45 pm – 01.00 pm | 4th Technical Session |
| 01.00 pm – 02.29 pm | LUNCH BREAK |
| 02.30 pm – 03.44 pm | 5th Technical Session |
| 03.45 pm – 05.29 pm | 6th Technical Session |
| 05.30 pm – 05.39 pm | CLOSING REMARKS |
| 05.40 pm – 06.00 pm | EVENING TEA |


Program Poster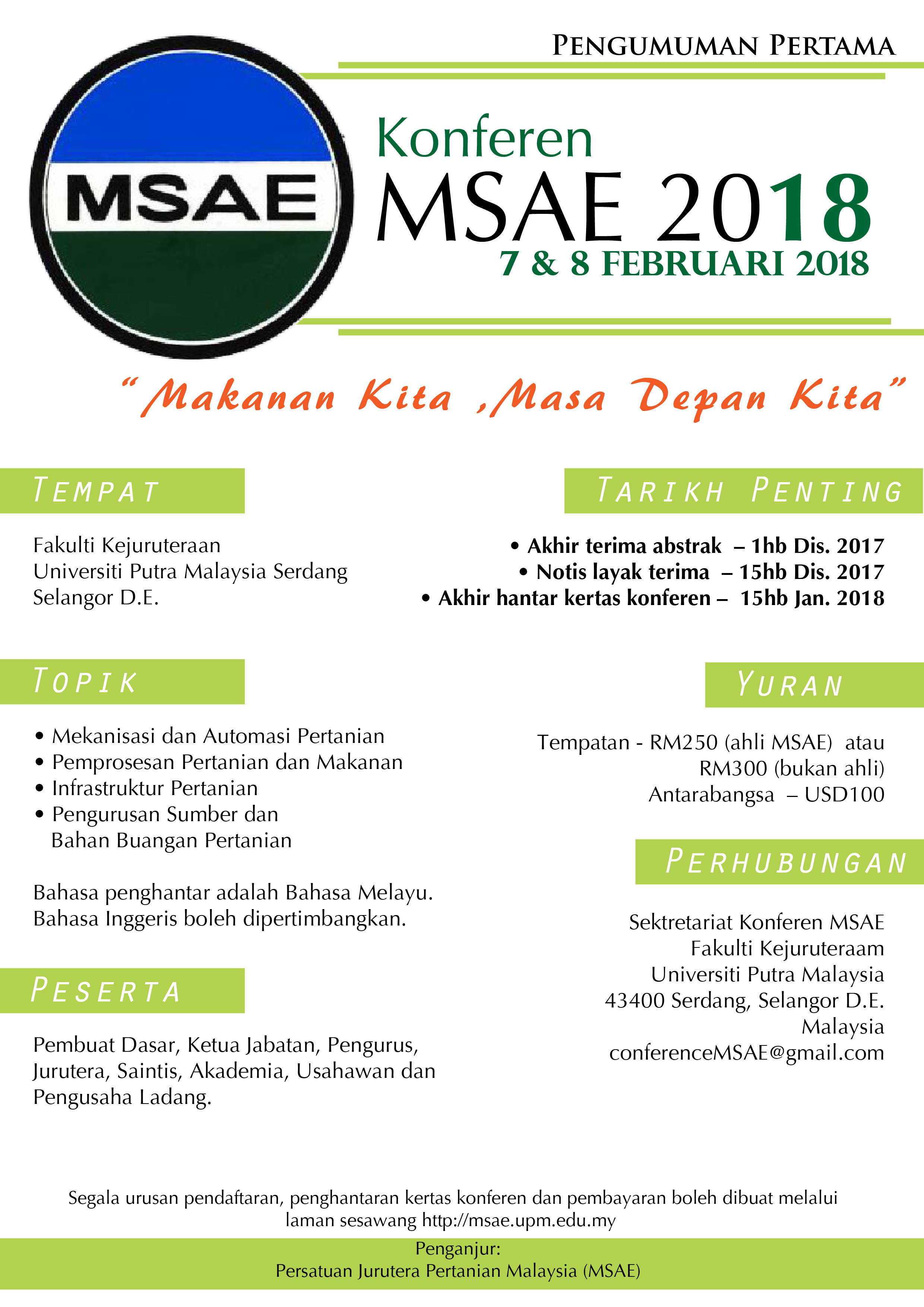 Kemaskini Terakhir : Tue, 24 Oct 2017 (anas_mustafah)