Prof. Dr. Yoshihito Shirai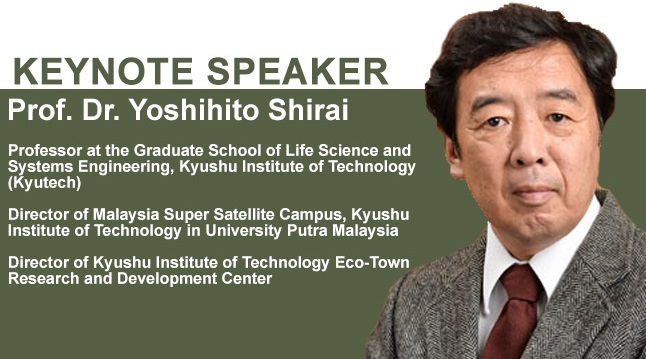 Promotion of Green Economy with Palm Oil Industry for Biodiversity Conservation In Malaysia
Yoshihito Shirai is a Professor at the Graduate School of Life Science and Systems Engineering, Kyushu Institute of Technology (Kyutech), a position he has been holding since 2001, the Director pf Malaysia Super Satellite Campus, Kyushu Institute of Technology in University Putra Malaysia (since 2013), and the Director of Kyushu Institute of Technology Eco-Town Research and Development Center (since 2005). Previously, he served as the Council of Kyushu Institute of Technology Board Meeting (2010 - 2013), JICA Expert, Department of Biotechnology, University Putra Malaysia (1994 - 2000), Associate Professor, Department of Biochemical Engineering and Science, Faculty of Computer Engineering and Systems Engineering, Kyushu Institute of Technology (1992 - 2001), Visiting Professor, Lappeenranta University of Technology, Finland (1988), Assistant Professor, Department of Chemical Engineering, Faculty of Engineering (1984-1992).
Prof. Dr. Yoshihito Shirai was the main supervisor of Prof. Dr. Mohd Ali Hassan from University Putra Malaysia when he was awarded PhD from Okayama University in 1997. Since then, Prof. Shirai and Prof. Ali continued their collaborative research and education works. Prof. Shirai provided a Japanese research manner in a laboratory with the Japanese discipline. This should be a one of the targets of the Look East Policy in Malaysia. A result of the policy, Prof. Ali has now been highly regarded as one of the well-accomplished researchers in environmental biotechnology in Malaysia. Their hard works yield a remarkable number of excellent research works and 21 promising PhD awarders from Kyushu Institute of Technology and University Putra Malaysia. Their endeavor and collaboration could bring a great success to establish MSSC, a collaborative research and education hub of Kyutech in Malaysia. In 2013, around 100 Japanese students visit and stay in UPM, and 50 Malaysian students went to Kyutech through MSSC.

Prof. Shirai is an active and well-known researcher in the field of bioprocess engineering and environmental biotechnology. He has published more than 200 papers and received multiple accolades with Prof. Ali such as Silver Medal, International Invention and Design Competition (ITEX) Kuala Lumpur in 2000, Silver Medal, International Invention Design Competition, Switzerland, (2001), Gold Medal, Research and Invention Competition, UPM (2002) and Silver Medal, Research Competition, Science and Technology Exposition, Kuala Lumpur (2003). Prior to this, he was awarded with Kamura Prize in 2005. In 2014, Prof. Shirai was one of the proud recepients of Setia Mahkota Selangor (S.M.S) honour, in conjunction with the 69th birthday of the Sultan of Selangor, Sultan Sharafuddin Idris Shah.
Latest Update : Sat, 09 Jun 2018 (z_faiz)